I stumbled upon a ton of 1st grade teacher blogs recently, I miss 1st grade sometimes, but 2nd grade is treating me well too!!
One of the blogger was hosting an accesory swap. sounded like fun, so I signed up
I should be getting my swap partner info soon
http://missdelk.blogspot.com/
" target="_blank">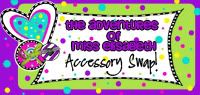 I can always use more headbands, bracelets, earrings, etc
Might recommend it to sunshine committee at school too!!!